Download our eBook:
"Get Into the Groove!"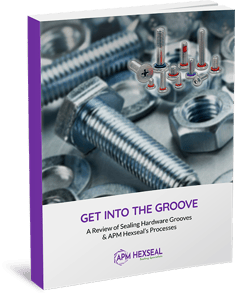 A Review of Sealing Hardware Grooves & APM Hexseal's Processes
The key to APM Hexseal's superior sealing solutions comes down to one unique factor–the groove! But what is this groove and why is it so important? To help answer these question, we created this helpful eBook guide.
Our eBook, "Get Into the Groove!" dives into the groove to explore how this innovative technology provides the most exceptional sealing solutions. Inside includes topics such as:
What is the Groove?
How does the Groove Benefit Sealing Hardware?
Applications of the Groove
Groove Considerations
Fill out the form to access your copy of the eBook, "Get Into the Groove"